Shark liver oil (120 capsules)
Tax included.
Shark liver oil 500mg 120 capsules - Fish oil and Immune support made in Iceland
Shark Liver Oil is regarded as especially beneficial to the immune system as it is rich in alkylglycerols, which support the production of white blood cells in our body. White cells are essential in fighting off infection, but many are killed by chemotherapy.
Shark liver oil
 is an oil obtained from the 
livers
 of 
sharks
. It has been used for centuries as a folk remedy to promote the healing of wounds and as a remedy for respiratory tract and digestive system problems.
 It is still promoted as a dietary supplement, and additional claims have been made that it can treat other disorders such as cancer, HIV, radiation illness, swine flu, and the common cold.
RECOMMENDED DAILY DOSE:
1-2 CAPSULES
INGREDIENTS:
SHARK LIVER OIL, GELATINE, GLYCERINE (E422).
NUTRITIONAL INFORMATION PER CAPSULE:
ENERGY: 21 KJ / 5 KCAL
PROTEIN: 0.13 G
CARBOHYDRATE: 0.06 G
FAT: 0.5 G
ALKOXYGLYCEROLS (20%): 80 MG
Airmail to Europe 4-10 business days and with DHL 1-2 business days
Airmail to North America 7-20 business days and with DHL 1-3 business days
Airmail rest of world 10-30 business days and with DHL 1-3 business days
View full details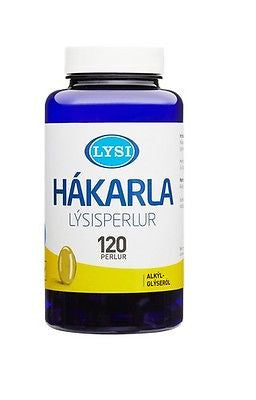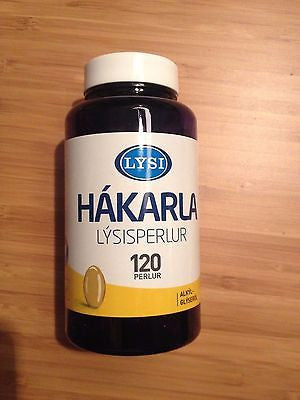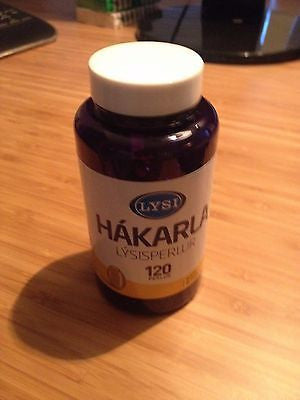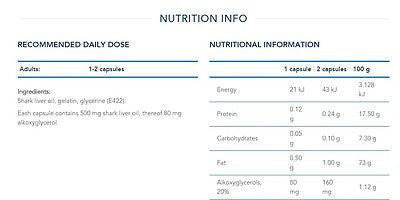 Shark liver oil (120 capsules)
SUBHEADING
Recently viewed products