Popular candy bundle - Shipping included
Tax included.
A mix of our most popular Icelandic candy in one bundle. You'll get a variety of flavors and textures in one package, perfect for gifting or snacking. These individually wrapped treats are both delicious and convenient, allowing you to enjoy a variety of flavors without committing to a large quantity of any one kind.
If other products than bundles are added to the chart you need to pay for shipping of the products.
Bundle overview
1 bag of Bingó kúlur 150g
1 bag of Djúpur 150g
1 bag of Sambó Þristur 250g
1 bag of Nóa Kropp Chocolate 240g
Shipped as Uninsured E parcel with 10-20 days delivery.
Products in the bundle
Góa Bingó kúlur 150g
Delicious dark chocolate and licorice caramels crafted in Iceland by Goa. Goa's dark chocolate and licorice caramels make a sophisticated treat, perfect for a special occasion or a simple indulgence.
Freyja Djúpur 150g
Freyja Djúpur packs a punch with its chocolate pearls candy, soft salty licorice core, and thin white crispy sugar coating. This tasty treat is a hit in Iceland and promises an incredible taste experience - yum! Snack satisfaction is guaranteed with every bite, so if you're looking for an exciting treat, look no further!
Sambó Þristur 250g
Indulge in a luxurious Icelandic retreat, perfect for those seeking a high-end taste experience. Sambó Þristur is a delightful confection, made of chocolate-covered bars filled with licorice bits, providing the ideal balance of decadent chocolate and sweet licorice. Each bag contains 15 small, individually wrapped bars, sure to please even the most refined palate.
Nóa Kropp Chocolate 240g
Nóa Kropp is a crisp cereal centers covered with rich milk chocolate. Light and crispy. Made by Iceland's oldest chocolate manufacturer since 1920 by Noi. 
Airmail to Europe 4-10 business days and with DHL 1-2 business days
Airmail to North America 7-20 business days and with DHL 1-3 business days
Airmail rest of world 10-30 business days and with DHL 1-3 business days
View full details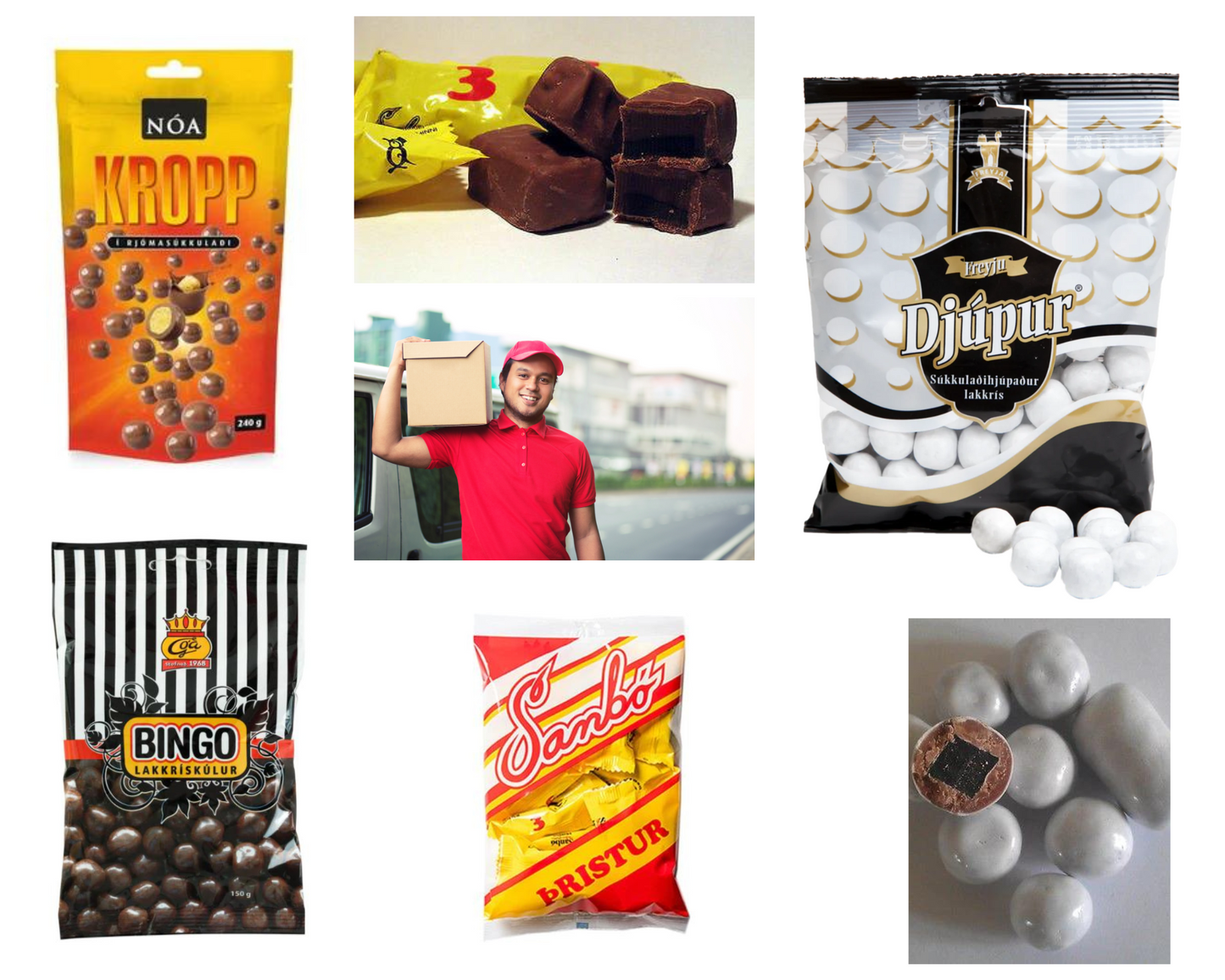 Popular candy bundle - Shipping included
SUBHEADING
Recently viewed products