Very Popular Candy bundle - Shipping included
Tax included.
A mix of one of our most popular candy in one bundle. You'll get a delicious variety of textures and flavors in this bundle, perfect for satisfying any sweet tooth.
If other products than bundles are added to the chart you need to pay for shipping of the products.
Bundle overview
1 pack of Hraun chocolate pieces 200g
1 pack of Æði chocolate pieces 200g
1 pack of Lindu buff chocolate pieces 200g
1 pack of Appolo Licorice pieces 250g
Shipped as Uninsured E parcel with 10-20 days delivery.
Products in the bundle
Hraun chocolate pieces 200g
Bites of chocolate wafers, covered with crispy corn puffs and two separate layers of milk chocolate. A truly indulgent experience that's sure to delight your taste buds. Whether you're in the mood for a sweet snack or a luxurious treat, this delightful combination of flavors is sure to satisfy you.
Æði chocolate pieces 200g
Fragrant chocolate and coconut biscuit morsels, named Æði bitar or Aedi bitar, offer a delightful treat. Irresistible milk chocolate wafers are cut to the perfect size for popping into one's mouth and indulgently coated in rich milk chocolate before being dusted with delectable coconut bits.
Góa Lindu buff chocolate pieces 200g
The Buff is a marshmallow/taffy cream confection dipped in chocolate. It's a flavor and texture that is original: light, sweet and fun to eat. 
Appolo Licorice pieces 250g
Chocolate bars, featuring marzipan fillings and licorice, dipped in crunchy corn puffs. In Iceland we call this: Appolo Lakkrís Bitar.
Airmail to Europe 4-10 business days and with DHL 1-2 business days
Airmail to North America 7-20 business days and with DHL 1-3 business days
Airmail rest of world 10-30 business days and with DHL 1-3 business days
View full details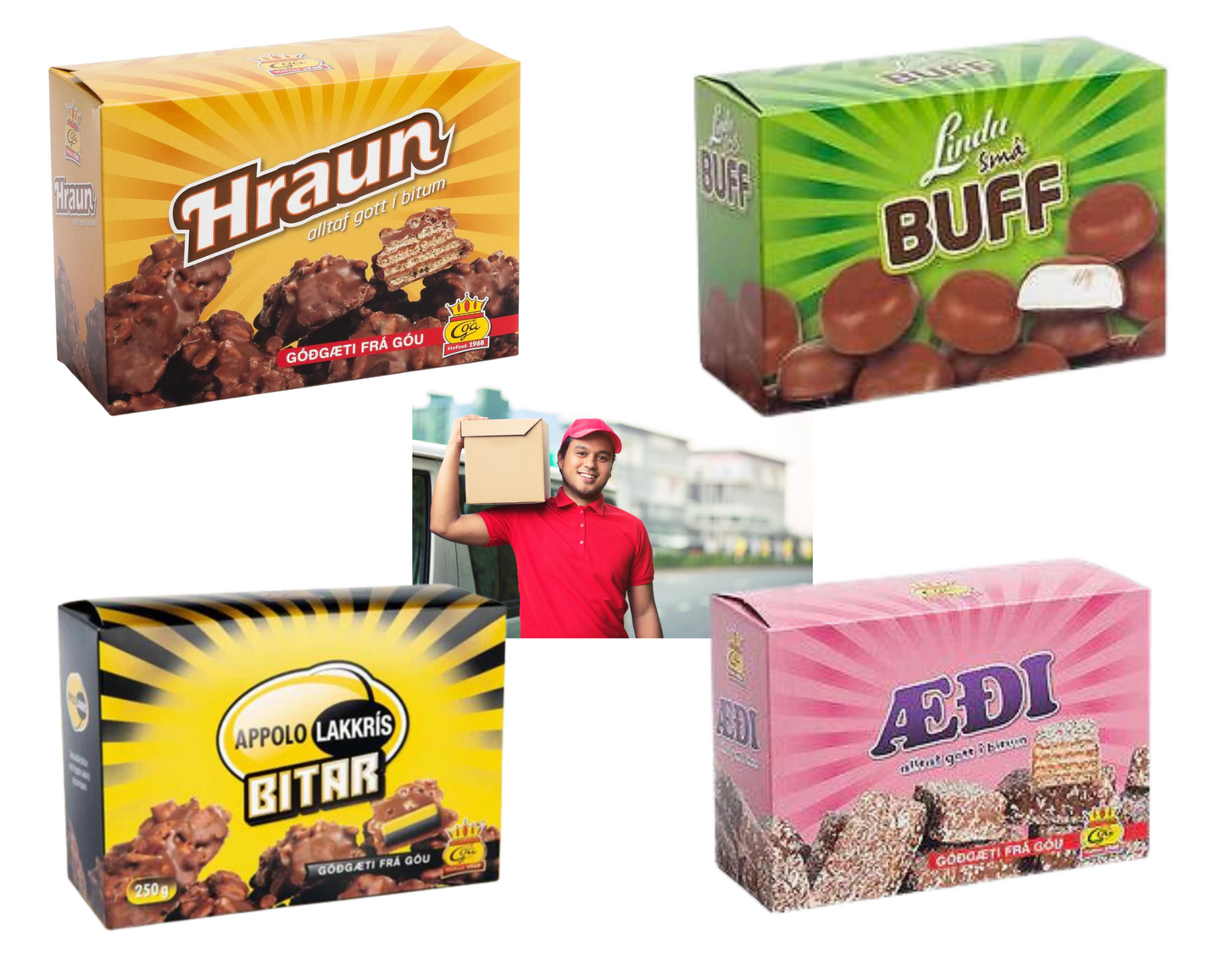 Very Popular Candy bundle - Shipping included
SUBHEADING
Recently viewed products