Dog Treat - Red Fish Skin (50g)
Tax included.
The Cod Skin is made from Red Fish skin, 100% pure Icelandic fish. It is rich in Omega 3 and Omega 6.
ICELANDPET offers high-quality treats, feeds and toppings for cats and dogs. Their commitment to improving pet health is reflected in our dedication to using only quality natural ingredients from Icelandic sustainable raw materials.
The cornerstone of our pet food is Icelandic fish, caught from unpolluted waters surrounding Iceland and processed fresh while ensuring the product quality is maintained during processing. Only high-quality raw materials are used in our products, including Icelandic fish, which provide high-quality protein and essential nutrients for overall health. Additionally, refined fish oil is rich in Omega 3/6 fatty acids, promoting healthy skin, glossy fur and supporting immune and renal function. The ingredients are easily digestible and well-tolerated, ensuring your furry friend gets the most out of every bite.

ICELANDPET prioritizes sustainability, using clear and sustainable energy. Our commitment to sustainable practices is reflected in all aspects of the manufacturing process, from ingredient sourcing to production.
ICELANDPET cares for your pet well being.
Produced by Lýsi.
Nutrition:   
| | |
| --- | --- |
|  Energy  | 1270kj/300kkal |
| Carbohydrates | 0% |
| Ash | 18,6% |
| Fat | 4%  |
| Protein | 66% |
Weight: 50 grams.
Airmail to Europe 4-10 business days and with DHL 1-2 business days
Airmail to North America 7-20 business days and with DHL 1-3 business days
Airmail rest of world 10-30 business days and with DHL 1-3 business days
View full details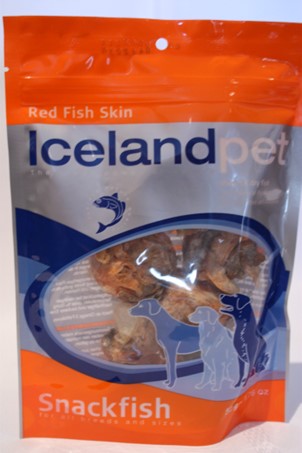 Dog Treat - Red Fish Skin (50g)
SUBHEADING
Recently viewed products