Sku:
Vendor: Grimur kokkur
Fish Cakes - Fiskibollur (550g)
Tax included.
Grimur Kokkur's Fish Cakes offer a delectable gourmet experience crafted from top-notch, sustainably-sourced ingredients. Get your fill of 8 cakes per package. Its light and flaky texture, ensconced with deep and savory flavors, make for an exquisite and luxurious seafood indulgence. Enjoy with a dollop of your favorite condiment for added zest.

Ingredients:

Cod (75%), onion, spice mix (wheat, potato starch, salt, lactose, flavorings, spices (pepper, celery, turmeric), sunflower oil, garlic, onion, anti-caking agent (E551)), wheat fiber, egg (preservative (E211), acid (E330)). Fried in rapeseed oil.
Grimur's Fish Balls are delicious and tasty, and many of Grimur's customers have said that they prefer them over their own mother's fish balls. This is an old Icelandic dish that is still very popular among locals. Try these amazing fish balls and you won't be disappointed. 
The fish balls are fully cooked, and just need to be heated up in an oven, pan, or microwave. 
- Heat in an oven for 8-10 minutes at 180°C if the balls are frozen, it takes 15-20 minutes. 
- Heat on a pan until they are fully hot.
- Heat in a microwave for 3-4 minutes. 
Note! Ovens are different in make and quality, and the heating time is only for reference.
Grimur recommends serving the fish balls with boiled potatoes, salad, brown sauce with or without onions, onion butter or curry sauce.
Nutritional values per 100 g:
| | |
| --- | --- |
| Energy  | 644 kJ / 153 kcal |
| Fat | 2.9 g |
| - of which saturates |  0.3 g |
| Carbohydrates | 21.4 g |
| - of which sugars |  1.2 g |
| Protein | 10.4 g |
| Salt | 1.0 g |
Weight: 550 grams
*Only shipped with DHL Express
Please note: This product needs to be refrigerated, it's shipped out in styrofoam box and with ice packs inside the box to keep fresh. Only sent out on Mondays to avoid being in DHL distribution center over a weekend. Normal shipping time with DHL is 2-4 business days.
Airmail to Europe 4-10 business days and with DHL 1-2 business days
Airmail to North America 7-20 business days and with DHL 1-3 business days
Airmail rest of world 10-30 business days and with DHL 1-3 business days
View full details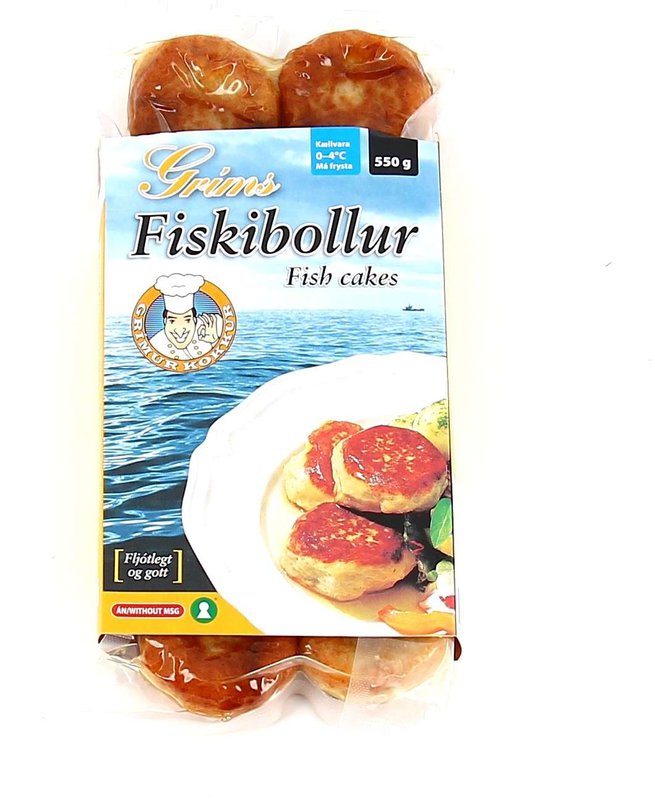 Fish Cakes - Fiskibollur (550g)
SUBHEADING
Recently viewed products