Omega-3 Fish Oil (240ml)
Tax included.
Omega-3 fish oil is produced from fish that is rich in Omega-3 fatty acids. Omega-3 from LYSI contains no vitamins and can be consumed alongside cod liver oil and other fish liver oils.

A great deal of research has been done on the influence of omega-3 fatty acids, especially EPA and DHA, and the results have been published in prominent scientific journals worldwide. The positive effects of omega-3 acids are also regularly reported in the media.

Omega-3 fish oil is reported to have positive effects on mental health and to reduce aching joints and morning stiffness. It is also thought to decrease the risk of coronary heart disease. Moreover, omega-3 fish oil is believed to play a vital role in developing the brain and central nervous system.

People taking blood thinner medicine (anticoagulant) should consult a physician before taking Omega-3 fish oil.
Size: 240ml
Airmail to Europe 4-10 business days and with DHL 1-2 business days
Airmail to North America 7-20 business days and with DHL 1-3 business days
Airmail rest of world 10-30 business days and with DHL 1-3 business days
View full details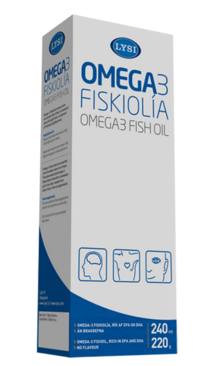 SUBHEADING
Recently viewed products