Omega-3 with D vitamin (120 capsules)
Tax included.
Omega-3 fish oil is processed from fish rich in Omega-3 fatty acids. Much research has been done on the influence of Omega-3 fatty acids, especially EPA and DHA, and the results have been published in prominent scientific journals worldwide.
The positive effects of omega-3 fatty acids are also regularly reported in the media. Omega-3 fish oil is said to positively impact mental health, reduce aching joints and morning stiffness, and decrease the risk of coronary heart disease. Moreover, omega-3 fish oil is thought to play a vital role in developing the brain and central nervous system.
Did you know there is a group of experts called the Vitamin D Council? It's a nonprofit organization that serves as a center for evidence-based vitamin D research and works to educate the public on vitamin D. On the council's webpage. You can find information about the importance of Vitamin D for the body and how it is not only important for bone growth but also how vitamin D deficiency is a risk factor for many diseases, including heart disease and cancer.
Vitamin D levels usually drop in people living in northern countries during winter time. This is especially true for those who don't consume fish oils or vitamin D supplements. Vitamin D is necessary to ensure the normal growth of teeth and bones. It also increases the absorption of calcium in the body. An Icelandic study published in The Journal of American Medical Association concludes that vitamin D helps to sustain the body's calcium balance better than increased doses of calcium do. The results show that large doses of calcium do not help if there is a vitamin D deficiency.
As long as the vitamin D levels are high, a moderate dose of calcium (800 mg per day) should be sufficient to maintain a healthy calcium balance.
Made in Iceland by Lysi
Per bottle: 120 capsules
Total weight: 110 grams
Airmail to Europe 4-10 business days and with DHL 1-2 business days
Airmail to North America 7-20 business days and with DHL 1-3 business days
Airmail rest of world 10-30 business days and with DHL 1-3 business days
View full details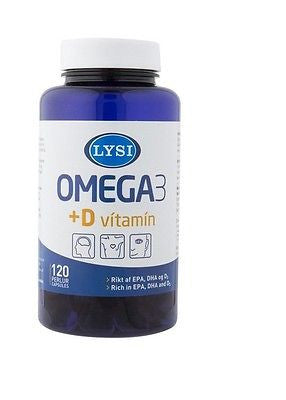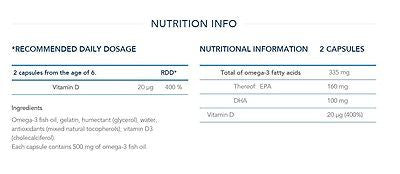 Omega-3 with D vitamin (120 capsules)
SUBHEADING
Recently viewed products