Salmon bundle - Shipping included
Tax included.
Icelandic Salmon is cured and smoked on Icelandic rye bread, with either a tangy Cured Salmon Dressing or a zesty Horseradish Dressing topping.
Orders placed through the midweek are dispatched the subsequent Monday, ensuring the utmost freshness and fidelity.
If other products than bundles are added to the chart you need to pay for shipping of the products.
Bundle overview
1 Smoked Salmon bite 250g
1 Cured Salmon bite 250g
1 Cured Salmon Dressing 300ml
1 Stellu Rye bread 270g
 Shipped with DHL with 1-3 days delivery.
Products in the bundle
Smoked Salmon Bite (200-250g)
From Norðanfiskur. Icelandic smoked salmon is very popular. Try it with roasted bread or on rye bread. This salmon bite elevates any meal - from a light breakfast to a luxurious dinner. Enjoy the taste of the world's best salmon and get the optimal balance of Omega-3 fatty acids, vitamins, and minerals.
Gravlax - Cured Salmon Bite (200-250g)
From Norðanfiskur. Icelandic gravlax or cured salmon is covered in dill and is very popular around the Christmas time. Try it with gravlax sauce on roasted bread or on rye bread.
Graflaxsósa - Cured salmon dressing (300ml)
Cured salmon dressing is a sauce that you eat with cured salmon/gravlax but you can also use it with the smoked salmon.
Rye Bread - Rúgbrauð (270g)
Stella rye bread is one of the best-selling rye bread in Iceland. The main ingredients in Stella rye bread are water, rye flour, wheat, and powdered sugar. The bread is boiled for a reasonable amount of time at a low temperature to ensure the best possible quality. A variation of rye bread is also known as hverabrauð. The dough is placed in a pot and buried in the ground near each house circularly.



Airmail to Europe 4-10 business days and with DHL 1-2 business days
Airmail to North America 7-20 business days and with DHL 1-3 business days
Airmail rest of world 10-30 business days and with DHL 1-3 business days
View full details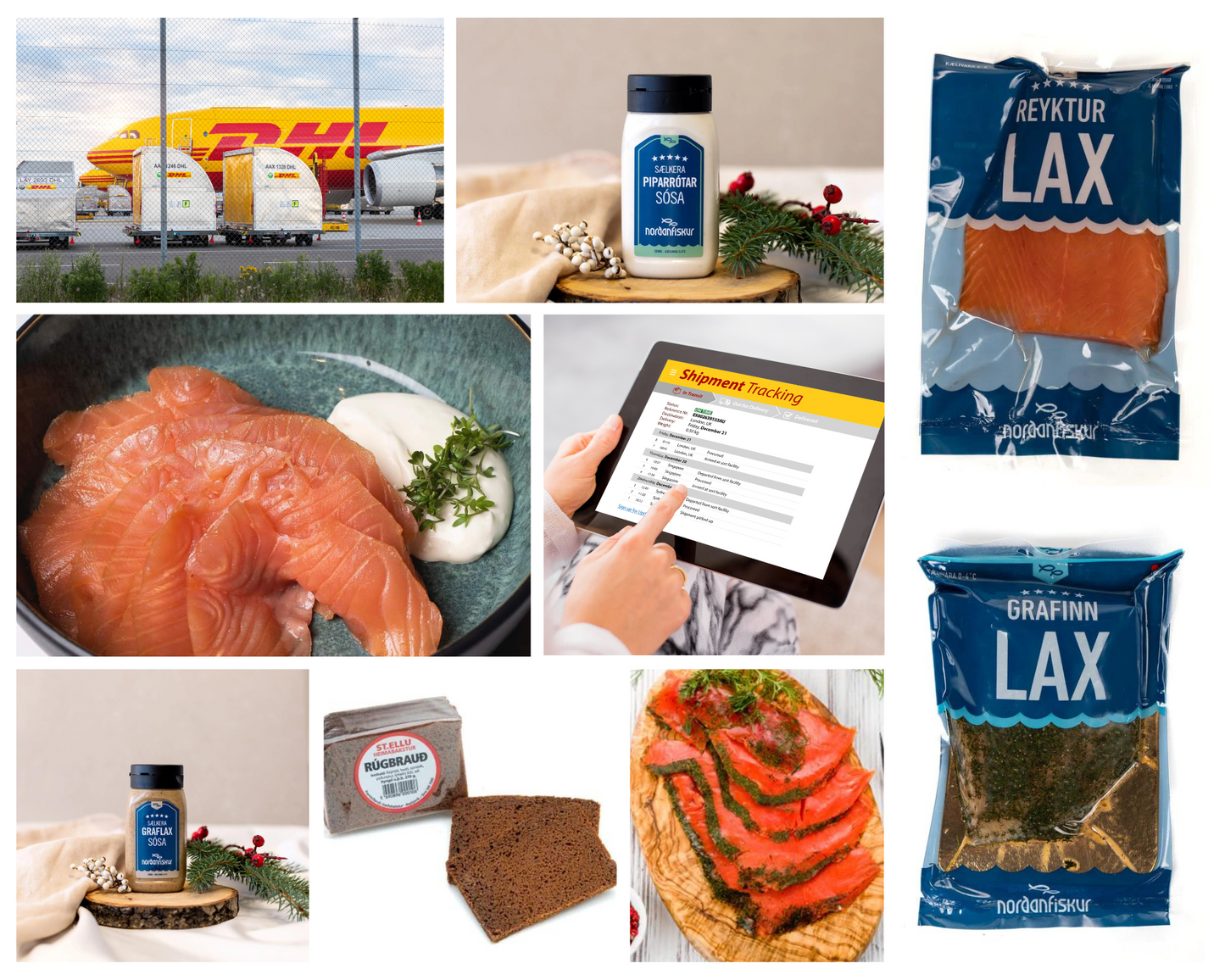 Salmon bundle - Shipping included
SUBHEADING
Recently viewed products